Reading Time:
7
minutes
A guide to resin casting to help you create custom cane heads and other metal-looking decoration resembling vintage goodies. Think drawer knobs, paperweights, figurines… the possibilities are endless.
I recently wrote about the awesome project my costume design course got up to last year – those of my course mates specialising in costume interpretation created dozens of gorgeous, Jacobean style garments for the characters of the DC Comics Universe, giving superheroes and villains a Shakespearean makeover.
Although I was working on a different project, I still got to partake in this grand extravaganza resulting in a short film and photoshoot, by learning some prop making skills and creating a vintage-style cane for the Joker.
Costume design by Will Hargreaves and Bunny Winter.
Costume interpretation by Hanna Cross.
Modelled by Nebras Jemali. Photographed by Andy Bate.
Image via the Arts University Bournemouth.
The cane head featured a laughing skull with a jester hat on, which I first sculpted using Super Sculpey, then made a silicone mold of, and finally, casted in resin mixed with brass metal powder.
Liquid synthetic resin is a versatile material that "is primarily used for small-scale production like industrial prototypes and dentistry. It can be done by amateur hobbyists with little initial investment, and is used in the production of collectible toys, models and figures, as well as small-scale jewelry production." (good ol' Wikipedia)
Although it may not have been an obvious choice for a bigger object, it worked well (besides being free in my university's workshop), and mixed with metal powder, it very closely resembles real metal – it is perfect if you want to create any vintage-looking decorative goodies.
To give you some ideas, here's a bit of cool animal-themed inspiration…
…like this whale paperweight
…this penguin paperweight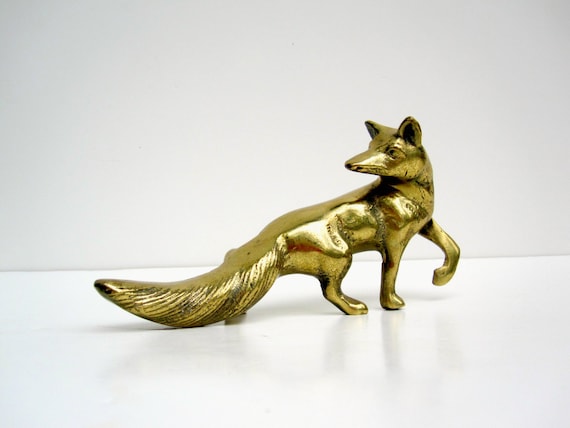 …this fox figurine

…this hare drawer knob

…or this stag drawer knob.
I'll primarily focus on the process of making a cane head similar to the Joker's, but with little alterations, this method can be used to make just about any sort of decorative object. You may find that you're actually more than happy with your initial sculpture made of Sculpey and don't want to go through the whole mold-making and casting process – that's also fine; Sculpey paints very well with acrylic. However, if you plan on making multiple figurines, a mold is the way to go.
Let's begin, shall we?

Things you'll need…
…for the cane:
Walking stick with detachable handle (charity shops often stock them) or a plain wooden stick
Spray paint (optional)
…for the cane head or decorative figure:
Firm Super Sculpey (the grey one)
Oven
Sheets of MDF and hot glue gun to build a container that fits your sculpture
Silicone mold making rubber and catalyst (enough to fill your container)
A small dowel (of around a centimetre in diameter, and a couple of centimetres in length)
Resin (liquid synthetic)
Metal powder (use brass-coloured for a vintage effect, or your choice of colour)
Drill
Long screw
Hot glue gun or strong industrial glue
Protective mask and rubber gloves
Ideally, a workshop to access all these for free and get help if you get confused (like I did)
(You won't need the drill and screw if you're making a paperweight or other stand-alone figurine)
Instructions
Start off by sculpting your desired shape out of firm, grey Super Sculpey. This works better than the soft pink one, as it holds its shape (and each dent) better, without delicate details melting away in your hands. Rather than trying to bend and shape bigger bulks, try cutting thinner sheets with a scalpel or the edge of a ruler and layering them. If you're lacking sculpting tools, use a pencil, scalpel, lolly stick, dentist tools (my modelmaking tutor swears on them), chopsticks, coffee stick, or pretty much anything you can get your hands on to create smaller details. Bear in mind the purpose of the figure – a flat side is needed for a paperweight so it sits nicely, and the cane head so it butts against the end of the stick (in my case, the jaw wrapped around the cane, and the roof of the skull's mouth sat on the end of the cane – this is where I later drilled a hole for a screw). If you plan on finishing it some other time, make sure you put it in a plastic bag to prevent it from drying out.

Say hi to Kevin – my friends named him

Once your sculpture is ready, stick that bad boy in the oven. With Sculpey, I usually go with 10 minutes on 100 degrees Celsius to begin with, and put it back for another few minutes until firm.

Optional: improvise oven mittens from leftover calico if there aren't any on hand.

To create the silicone mold, you will need to assemble the MDF sheets with wood glue or a hot glue gun to create a container that comfortably fits your sculpture; with an inch or so of extra space around. Seal all the edges with the glue to prevent the silicone from leaking out. Glue the small dowel to the bottom – or another side that won't be seen – of the sculpture and place it in the container like this, so that the rod butts against its bottom. This will prop up your sculpture and create a small tunnel into the mold through which you can pour in the resin later.
In Kevin's case, I also sellotaped the opening of his mouth from the inside so that his jaw wouldn't get locked in the silicone – do this with any bits you don't want the silicone to get around.
Calculate the volume of the container, and mix enough silicone with the catalyst – according to the instructions on the package – to fill the container and cover your sculpture entirely.
Ideally, you would now need a vacuum chamber to degas the silicone and get rid of all the bubbles in it; however, unless you have access to one in a workshop, you can skip this step.
Let the silicone set for 24 hours (or follow the instructions on the package).

Kevin deep in the silicone

The next day, start freeing your very own Kevin by breaking off the walls of the container. Then, with a scalpel, cut the mold in half with a wavy line, but don't separate the two halves entirely; leave one of the ends joint so that the mold opens like a pair of scissors. Take out the sculpture; it will likely be a bit broken, but you should have your nice mold ready to fill in with resin.

Insert the two halves back together along the wavy line (this will help the them grip on to each other), and tape the mold tightly. Fill a cup with resin and mix in about a spoonfol of metal powder (in my case, brass-coloured). Pour it into the mold through the little tunnel created by the dowel, and let it dry for 24 hours.

Alway use protection, kids. And take breaks to leave the workshop and breath in some fresh air every once in a while to avoid gassing yourself.

And, as you open the mold again, out of the silicone comes Kevin 2.0! Buff him up nicely with steel wool to let him shine inside and out. The mold can be reused many, many times if you wish to make some more figures.

If you were making a paperweight or other decorative figurine, congratulations, your creation is now complete! If you're making a cane head or drawer knob, here's what to do next:
Prepare the cane by removing its current handle and spray painting it to your colour of choice. When spraying, cover the area with paper or tarpaulin to protect your environment, and position the cane's ends against athe floor and wall so that you can rotate it easily, and no side sticks down, smudging the paint.
Take the finished resin figure and drill a hole in its flat side to accomodate a screw's head that fits in either the cane or the drawer. Fill the hole with strong industrial glue or with a hot glue, and stick it inside, head first.
When dry, screw it inside the cane (drill a hole in it if there hasn't been one before and help with some glue for extra hold) or the drawer, and admire your lovely creation!
Good luck!

Let me know if you've tried this or a similar method, and feel free to ask any questions you may have!